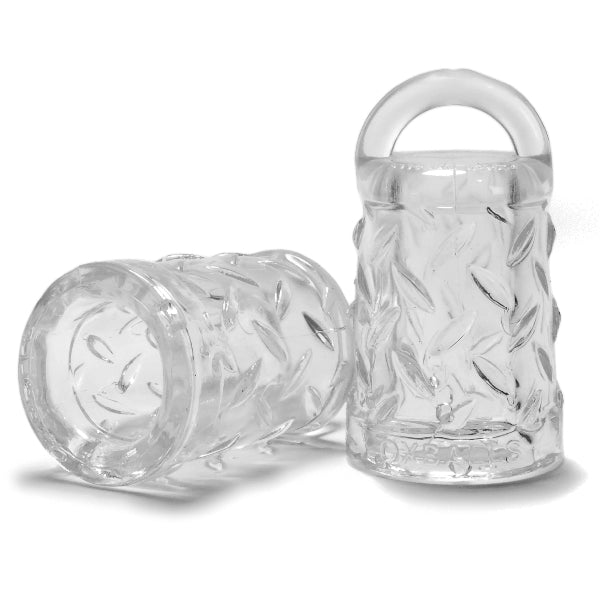 Oxballs
Gripper Nipple Puller Clear
At OXBALLS, there's few things we love more than seeing a pair of meaty nips straining in a stud's shirt. We know what we're talkin' about when it comes to tit play and if you're the kinda guy who can't get enough attention to your nips…have we got the toy for you.
Our GRIPPER nipple suckers are a take on classic snakebites…but designed solely for hungry hog teats.  
These fuckers are made of flexible TPR but still firm enough to give you some serious nip plumpin' and pullin.' Each pair is topped with a small handle perfect for tugging,' flickin,' or any other tit torture you might have in mind.
Not to mention, each sucker is complete with macho faux diamond plate detailing (cuz after all, we are ALL about the details).
To apply, simply wet the bottom of each sucker (we recommend spit but hey, we don't judge), squeeze out the air, stick 'em on your tits and enjoy the nasty nursin' sensation.
For the real nipple pigs out there...we recommend one of our clear colors so you can watch the progress of those swellin' man udders in real time.
And for some real nasty vacuum suction….Ox (our resident nipple pig) recommends greasing the opening of each sucker with old school waxy chapstick. It's cheap, easy, and will make your tit pumping even more effective. 
Stats (inches/cm):
Total Length:Â  2" / 5.08 cm
Total Circumference (Outer Circumference):Â  3.5" / 8.89 cm
Smallest Usable Circumference (Inner Circumference):Â  2.25" / 5.72 cm
Weight:Â  1 oz (Pair)