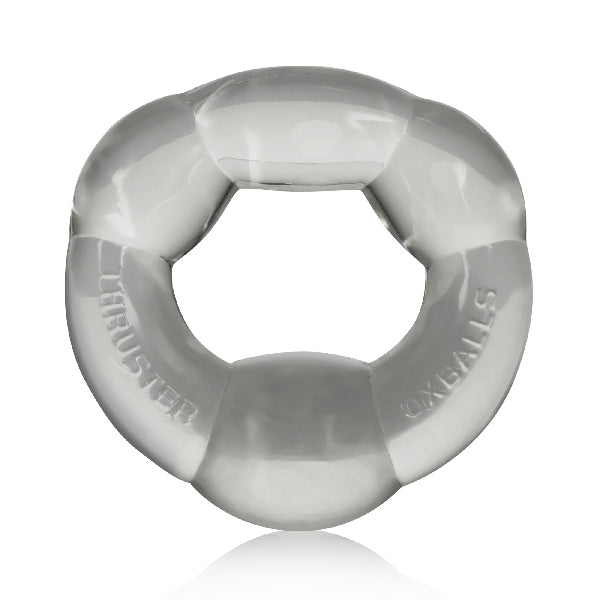 Oxballs
Thruster Cockring Clear
At OXBALLS, we make a lot of cockrings...and we get a lot of emails asking how each one fits, how much they stretch, where they grip, etc...
Well, if there's one thing we do know...it's gear made for your meat.
We take pride in our piggy products and are always looking for new ways to improve so we can continue to give you kinky fucks the best we have to offer.
That's why we've taken our classic POWERBALLScockring and perfected the design…introducing the spankin' new model, THRUSTER.
THRUSTER is everything you loved about POWERBALLS but even better…this fucker is bigger, badder, and plumps your sweaty hog up even more for maximum dick strokin', suckin', and hole pumpin'...
THRUSTER was created for comfort wear and use, it's made from our signature FLEX-TPR so it's squishy n' blubbery but grips your dong like a firm hand.
THRUSTER is a super stretchy full sized cockring that's not gonna pinch or strangle the hell outta your hog...yeowch! 
Wear it to the bar, gym, or even work...nothin. like goin. through your day with a chubbed up dick straining in your jock or snaking down your leg for all to see...
Placing the large ball under your nuts pushes your junk up n' out for a heftier lookin' package. Looks fuckin' hot bulgin' in some tight gear or thin gym-shorts.
 
Made in CHINA...design copyright OXBALLS
FLEX-TPR safe, non-toxic...and phthalate free
Lube safe: water-based
Stats (Approximate):
Thickness: .75 - 1"/ 1.91 cm - 2.54 cm
Outside Circumference: 7.5"/ 19.05 cm
Inside Circumference: 3.75"/ 9.53 cm
Weight: 1.3 oz